2018 UPCOMING EVENTS
* June 9th, Thai Massage & Restorative 6:30-8pm @ our La Jolla studio - with Ali Calvaruso

* July 14th, Yin & Vinyasa class, Celebrating La France 9:00-10:15am @ our La Jolla studio - with Alex Arias

* July 28th, Back Bend Workshop 11:00-12:45pm @ our la Jolla studio - with Trissa Stanton

* August 4th, Arm Balance Workshop 11:00-12:45 @ our La Jolla studio - with Alex Arias

* August 24th, Yin/ Gentle Vinyasa and massages & aroma therapy 6:00-7:15pm @ our La Jolla studio - with Charie Juaneza

SEPTEMBER - NO WORKSHOPS
SCHEDULE
Find the best yoga class to fit
your lifestyle:
300 classes classes offered
in between both studios!
ABOUT THE OWNER
The journey of owner, Alex Arias, and
how Elite Yoga came to be!


MEMBERSHIP
Looking to join Elite Yoga?
*$55 INTRO OFFER - ONE MONTH UNLIMITED YOGA - NEW CLIENTS ONLY

View our membership packages



INSTRUCTOR SPOTLIGHT
MICHELLE DAVIS
Michelle graduated from our Elite Yoga Teacher Training in November 2015.
Michelle leads an active lifestyle and is always seeking new adventure, but had also been experiencing some neck & back pain in her current exercise routine. After weight training, running a marathon with Team in Training and 3 years of Barre exercise, she happened upon Elite Yoga. She had no idea how much doing Yoga 4-5 days a week would challenge her body, mind and also help with her back pain. She learns more about herself with each class. Nor did she realize she would decide to make a total career change along the way! Michelle really enjoys the community WEY provides to bring Women together. She's a strong believer that life happens for a reason and is so happy to be a part of the Elite yoga team!
If she's not at EY, Michelle enjoys cooking, days at the beach, live jazz, wine tasting and spending time with her dog & husband.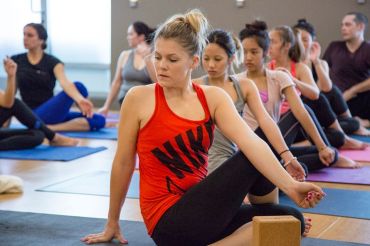 CLASSES
Get familiar with the classes
offered at Elite Yoga

Level 1, Gentle Flow, Level 1.5, Mixed Vinyasa, Level 2, Bheemashakti, Hot Hour Yoga, Tone It Up, Yin Yoga
TEACHER TRAINING
Learn to deepen your practice and develop
the fundamental knowledge of yoga



ELITE YOGA SEEKS TO IMPROVE YOUR HEALTH AND WELL-BEING
Elite Yoga has designed a framework of heated and non-heated yoga classes to help you achieve your personal wellness goals. We offer all levels Vinyasa classes, Ashtanga, Yoga Basics, Yin Yoga, Prenatal Yoga, Gentle Yoga flows, as well as 200-hour Yoga Teacher Training and amazing Yoga Retreats! The heart behind each class is to create an experience designed to improve the quality of health - a marriage between mental, physical and emotional well-being. Each class will be viewed as a stepping-stone to a healthy lifestyle. We conveniently offer two locations; La Jolla and Carmel Valley Road.

VISIT OUR STUDIOS